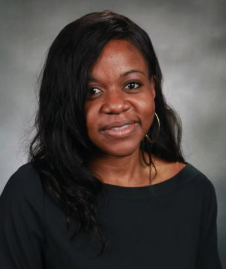 Fern Bamfo-Addo (Addo) is the new lead principal at LTHS this 2023-2024 school year and she has been a part of Frisco ISD since 2009. She was previously a Chemistry teacher, an assistant principal, and, most recently, an associate principal at Wakeland High School.
Addo expressed what she is looking forward to accomplishing this school year. 
"I'm excited for the opportunity to connect with the community, the staff, the teachers, in a different role and have a bigger sphere of influence, and really to inspire people to really exist outside of their comfort zone, take chances, and just to inspire change," Addo said. 
Taking chances can be difficult, and advice that Addo would relay to her younger self is to be open to taking those chances and recognize the worth in learning from experience. 
"Some advice I would give myself is [to] take risks," Addo said. "[Don't be] afraid to fail. There's value in learning. I think for a long time, I let my insecurities win. Once I got comfortable I didn't want to move, so it was very hard for me to make myself uncomfortable."
Being a new lead principal comes with a lot of responsibilities and uncertainties, but Addo is aware of the challenges that come with the job.
"It's been a whirlwind," Addo said. "It's kind of like drinking from a fire hose. There's a lot coming at you. It is a privilege. It is a unique position because the weight of every decision ultimately falls on the principal, and that's a hard pill to swallow, but I have a really big awareness of it."
Additionally, Addo enjoys the freedoms that an administrator role provides as it allows her to tailor the role in the best way possible.
"I still found that the job is not prescriptive, there's no one way to do it, so I found that I can make it mine and even though I was in a different role I could still make those connections," Addo said.
Addo is focused on providing a safe environment for all students and ensuring their success. 
"I don't take any decision that I make lightly," Addo said. "My priority is the safety of our students. That can be mental, physical, [while] keeping the students safe and helping the student grow academically."
Addo's main goal is to grow the number of teachers, ensure that teachers will have opportunities to further their careers such as becoming an Associate Principal or Instruction Coordinator, and ultimately foster positive change at LTHS.
"I just like the ability to influence and inspire others," Addo said. "I think that representation matters. There's very few Black female principals, and so I'm really excited for the opportunity for students to see minorities leading and to see people who reflect who they are, so I'm excited for that."