Places to Eat After Games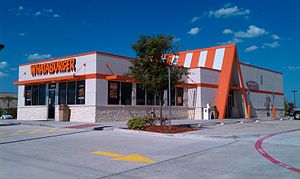 Hang on for a minute...we're trying to find some more stories you might like.
Sometimes when our Football team wins games, the Blazers get a little hungry and are in the mood to hang out with friends. We took a poll and we found that most of the students we asked said they prefer Whataburger because they have cheaper prices and it's a great hangout spot. Although Whataburger was the most preferred place to go to after a game, some students preferred Cici's over Whataburger. We asked a bunch of people and they told us that pizza after a game seems more popular than eating a burger and fries after a game. They also said it's not as expensive since Lebanon Trail gets a discount for an adult buffet. We also asked more students if they liked the new custard place, Andy's Frozen Custard, on Preston and Lebanon and one student told us that she and a couple of friends are planning on choosing Andy's over CiCi's and Whataburger. We've asked many people about why they go to a restaurant after a game and one student said, "It's fun to go out with friends and the football team, and it builds many friendships that will last forever." Another said that it could be a tradition that we start at Lebanon Trail High School. Since there are many restaurants close to the school, it wont be hard to uphold the tradition.