Start of a New Beg(Inning)
Heading into March, the LT girl's softball team's season is picking up, as they continue to face teams from around the district. 
As the team begins to deal with harsh weather and stiff competition, the girls softball team is optimistic about what is to come for this new season and looks forward to how they will face each new challenge together.
"Our team has been working hard since the summer and I believe that is going to be the biggest difference between us and other teams. We have all developed trust for one another which helps us prepare for difficult situations in games," sophomore Arianna Cancino said.
One of the biggest improvements that the softball team has made is how they have developed better team chemistry.
"This season, there is trust and a bond within the teammates. This team loves each other and that is our greatest asset. We have not let COVID change the way we play, but we just abide by the requirements to keep eachother safe," junior Riley Williams said.
For this new season, the softball team made many adjustments to accommodate a variety of factors–from new players to COVID.
"This year is different because we have new people joining and different skill sets. Many of us haven't played softball as long or competitively. COVID hasn't drastically impacted the way we play," senior Jane Horn said. "We have to wear our gators if we are in the dugout or in a huddle. The only time we don't have them up is if we are on the field or batting." 
Cancino, a varsity member of the team, is determined to improve on her mental capabilities and hopes to contribute to the team's success by staying resilient during the game.
"Something I would like to improve on in my game would be not overthinking my steps and just let myself play because I've been playing forever and my body knows what to do," Cancino said. "Something the team can improve on is holding our energy throughout the entire game and not just every other inning or only at the beginning or only at the end. Start strong, stay strong, and end strong."
As a senior on the team, Horn cherishes the memories she's made throughout the years. She said that she had fun becoming closer with each of her teammates and coaches.
"My experience over the last four years has been a rollercoaster–from meeting new people to getting a new coaching staff. I've enjoyed getting to know and play with everyone who's been in the program. I really enjoyed my sophomore year because that was when we finally had a varsity team. All of our bus rides were memorable because we would just blast music and sing along." Horn said.
Overall, the girl's softball team is ready to give this season their all as they strive to make a mark on their legacy at LT.
I am looking forward to seeing us put everything we have been working on this year into a game-like situation and come out on top," Williams said. "I am also excited to see us win some district games and make a name for the Lebanon Trail softball team."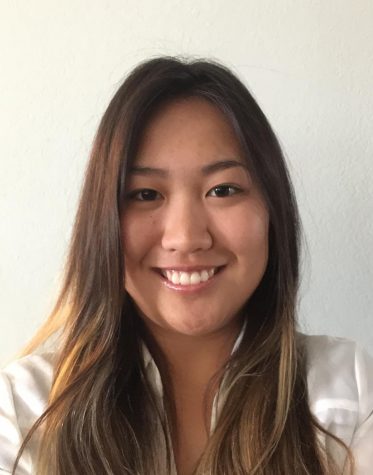 Madison Phung, Editor
Madison Phung is an editor for The Vanguard news staff.  In addition to playing competitive golf, Madison has interests in journalism and the film industry....