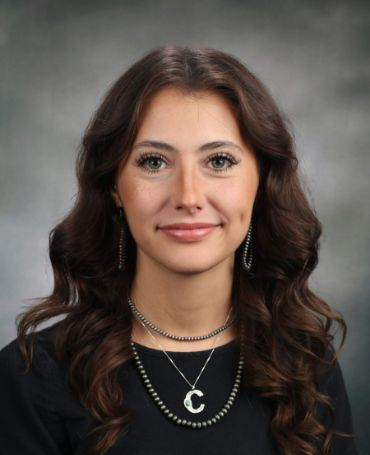 In the depths of A hall, tucked next to the newspaper room is a new member of staff on campus. This year, Cheatham steps into the light, beginning a new chapter of her life.
Cheatham switches classroom environments this year, and new experiences peek over the horizon.
"I worked at a very small school district last year, I taught one year at White Right," Cheatham said. "[There were] like 250 kids total in the whole school. It's a big difference; I also taught biology last year and agriculture, so this is my first year teaching all agriculture."
Along with the shift to a new district, Cheatham continues to adapt to her new surroundings.
"I think [the biggest thing ] is just that like my classes are bigger," Cheatham said. "I'm horrible at learning names. Especially because my classes are bigger, like there's 19 kids in here, and I didn't even teach 19 kids like in my first half of my day last year. So learning everyone's name [is something new]."
With all these new classes, Cheatham has set up goals in order to manage the new classes she is in.
"My goal is [to] keep up," Cheatham said. "Because this is my first time teaching these five classes. Every single day I'm teaching a new lesson for the first time, that I've never been able to teach before. So [this year], my goal is just to stay ahead of everything, and not fall behind."
Cheatham has taken the responsibility of going beyond teaching one subject, giving students new opportunities to learn new things and skills.
"My floral [design kids] are getting ready to make mums for homecoming," Cheatham said. "[Also], my wildlife class is starting their unit over hunter education and they're [going to] be working on getting hunting certifications. [My livestock kids are] learning [how to handle] animals, we're gonna practice walking pigs later this week."
Cheatham also manages the FFA, also known as Future Farmers of America, preparing the next generation of workers, giving them life skills to use for the future.
"They are an organization for students who are enrolled in agriculture classes," Cheatham said. "They have a bunch of leadership opportunities, [and] they got to different state conventions. They go to different district area level meetings, and then they also participate in different contests. [There is a] leadership contest, where they practice leadership skills, they have speaking contest where they practice speaking skills, [and] they have career contests that are focused on like whatever career they want to. So, it's to help grow them and prepare them for their lives outside of high school."
When she's not on campus, Cheatham takes the time to relax and focus on her life outside of school.
"I try to plan time to destress, [since] I am teaching five classes," Cheatham said. "[It is] a lot of [stuff to handle], and it's hard to not go home on the weekend and [just] sit down and just do lesson plans. I have to make sure that I tell myself like Saturdays are for me to enjoy life, and not get bogged down in everything that I have to get done throughout the week."
Although she has faced some challenges in the school year, she continues to work and make sure her classes are kept up to date. Although it may not look like much, her room holds responsibility and new opportunities in every corner.