An overview of Black Friday 2022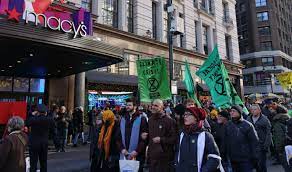 With rising fears of inflation and an economic slowdown in the United States, experts have been on the lookout for a slower Black Friday, however, a rise of 2.3 percent online restored some faith in consumer spending this year.
Firstly, the key takeaway of this holiday season is the increase in spending online and on cyber deals in comparison to in-person deals as typical of American holiday shopping. Retailers had previously emphasized the softer spending of consumers this year due to warning signs of a potential economic pitfall for various retail chains. However, around 196.7 million customers shopped online and in person this year on Black Friday. This year, a new record is made as over 9.12 billion dollars are made from various retail chains on Black Friday sales and shopping alone.
Retail depends on the holiday marketing season in order to set up business for the rest of the year and gauge their inventory amounts, and thus, around 13 percent of all sales for businesses occur during this period.
The advent of social media has further accelerated consumer spending due to faster trend cycles as compared to previous years. TikTok in particular is responsible for many of the trends that have circulated and created a massive uptake in spending.
Online deals this year, including free shipping, BOGO deals, and more are especially popular this year due to an extensive range of overseas products and stores not being available in many people's locations.
One specific innovation that has targeted shoppers in recent years is the new option to "buy now, and "pay later". This has allowed companies to offer an alternate method to those buying more expensive items to pay in increments or pay at a later time.
High inventory levels in 2022 have also caused many retail chains and brands to markdown prices to a larger extent in order to clear inventory and put out new items as well.
Electronics and toys were the most successful sectors in terms of overall sales. Holiday shopping likely places importance on kids' toys and activities. Electronics have shown some of the more significant markdowns throughout the sectors and thus saw a large increase in sales.
However, consumers have previously held doubts about some practices. Price inflation has become a notorious issue as consumers fear that markdowns are false advertising driven by markup and then markdown during the holiday season. In the United States, depending on local laws and regulations, markups and downs regarding business practices can be considered false advertising, and therefore stores would have to pay a fine. However, many businesses continue this practice, and have caused irritation and frustration within communities.
Students at LTHS have also expressed their thoughts about Black Friday and the consumerism and sales that create its foundation.
"Black Friday is an opportunity that many take in order to buy gifts for extended family members while also being able to go on trips out of state or the country and meet them. I understand the idea behind it but I do think that American consumerism has gotten a little out of control" Senior Soumya Ajjampudi said.
Ultimately, Black Friday is seen a symbol of consumerism and the retail market in the United States but is also considered an opportunity for many to get deals that are much more reasonable, especially considering higher living costs and rising concerns over inflation in the United States.