Checking Up On The School Chick-Fil-A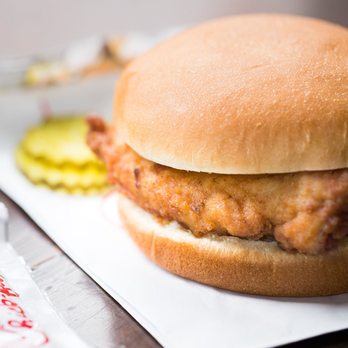 On Sept. 20, LTHS has started offering Chick-Fil-A sliders in the school coffee shop, which are available for purchase for $3 with the addition of tax. The sliders are smaller than Chick-Fil-A's usual sized sandwich to comply with nutritional requirements. This addition to the cafeteria has allowed for more meal options to be available and a number of students to have the opportunity to purchase Chick-Fil-A in a convenient way. 
Senior Erin Thompson described how having Chick-Fil-A available at schools provides more lunch alternatives to students, especially those who want a different variety of lunch options.
"In my opinion, it's definitely refreshing to have, because quite frankly I'm tired of the school food," Thompson said. 
Sophomore Ashley Schmidt provided her opinion on the recent addition of the Chick-Fil-A store at LTHS and how it ends up being costly for a student willing to purchase one slider. 
"In theory, it is cool, but it's very overrated since it is just one small slider," Schmidt said. "So, in addition to paying $3 for a slider, you have to pay $3.45 for another lunch as well to fill you up."
Schmidt listed some advantages and disadvantages of having Chick-Fil-A available, and reiterated the small portion size provided, highlighting the unsatisfactory feeling given to the one who purchased it. 
"I think the pros are that a lot of people like Chick – Fil – A so it is a safe option if you do not like the lunch, but the cons are that it is a very small portion that will not satisfy anyone," Schmidt said.
Phoebe Enriquez, a sophomore, explained how she has not yet purchased the Chick-Fil-A and is not planning on purchasing it in the future [due to having more menu options outside of the school menu and easy access to a Chick-Fil-A.]
"Am I planning to purchase it?," Enriquez said. "Most likely not because I can have Chick-Fil-A after school and with more options than just a sandwich."
Ultimately, Thompson would recommend other students to purchase the Chick-Fil-A, if they think it's worth paying for. 
"Yes I would, only if they're willing to pay for it," Thompson said. 
If students are interested, they can purchase Chick-Fil-A sliders during Tuesdays and Thursdays at the LTHS coffee shop.