Class of 2022 begins senior events with the senior picnic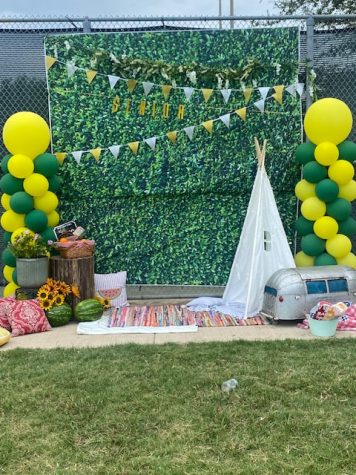 With the 2021-22 school year kicking off, Student Council and PTSA are planning and sponsoring senior events for Class of 2022, according to the weekly newsletter sent on Aug. 27. 
The LTHS Student Council has been planning senior events such as homecoming, a canned food drive, red ribbon week, and prom, senior and Student Council president Isabella Grogman said.
"The one senior event that we have really taken the lead on is Senior Sunrise, but a lot of the other ones are put on by the PTSA," Grogman said. "[The] Senior Picnic is being planned by the PTSA. Within the PTSA, there is a senior committee and it's a group of parents and then they've asked me to listen to their meetings and help plan some details so they have students' input."
According to the LTHS senior website, the LT PTSA is hosting the senior picnic, senior bonfire, a powder puff game, and baccalaureate. The first two events will take place in August and November respectively while the dates for the second two haven't been decided yet, according to the website. 
"There is more events [this year than last year]", PTSA Communications Chair Jenn McBrayer said via email. To make senior events safe during COVID-19, "students are allowed to wear masks, and sanitize. If [a student is] concerned, [they] do not have to attend," McBrayer stated. In addition, "there is a donation box in the front office and ways to donate online [at the LTHS senior website]" for students or parents who wish to donate, McBrayer added. 
The first senior event is the senior picnic which will be held on Aug. 29 at the Shawnee Trail Sports Complex from 5 p.m. to 7 p.m., according to the LTHS Twitter. Students may purchase the tickets at the LTHS senior website, according to the twitter post. 
"Students who bought a ticket for the picnic can expect fun opportunities to take photos with friends, talk with people they may not have seen in over a year, eat some In-N-Out burger and I think there's going to be snow cones there as well," Grogman said. "Being in person will hopefully bring lots of fun to senior events because we can go back to being with each other and getting to have that real senior experience … in a fun and safe outdoor environment."
Like Grogman, senior Yatin Chintala is planning on attending senior events such as homecoming and prom despite being in the pandemic due to the availability of vaccines and the safe measures FISD is taking, he said via text messages. 
Students interested in finding more information regarding events at schools can "go to the LTB StuCo Instagram (@ltbstuco) or Twitter account (@LTBStuCo) to find more information on student council events," Grogman said. "There is a LTHS seniors' Instagram (@ltseniorwall) as well for special senior events," Grogman added.