Now part of Lebanon Trail: Learn To Be, an organization with an important purpose
Learn To Be (LTB) is a U.S. non-profit organization that recruits volunteers to provide free online tutoring to students in underserved communities.  This year, LTB was introduced to Lebanon Trail, and while there aren't that many students in the club yet, many officers and members of the club think it will turn out to be four or five times bigger than it is now, and maybe even a club that defines the school, for many reasons.
The club was brought to Lebanon Trail by sophomore Nidhi Majoju, who has always wanted to start a club at Lebanon Trail.  Since she is the founder, Majoju is also the president of the club.
"I've always wanted to start a club (at Lebanon Trail), but I wanted to make it something that had a purpose, benefited the community, and [was] fun," Majoju said.  "That's when I got the idea to bring LTB to LTHS, because I felt like this is something we should all be part of, and many students will want to participate because tutoring is actually really fun."
Another reason she thinks LTB is so important is because of LTB's main goal, which is to close the gap in education between the privileged and underprivileged.
"I feel that most of us are very privileged to be in this huge high school that has so much technology, extracurricular activities, AP courses, and clubs," Majoju said.  "I felt that we have the power and time (especially during the pandemic) to make a difference in someone's life."
Sophomore and member, Alison Macleod, joined LTB because she is a "big supporter of education and [loves] guiding other students through their journey in school."
"Personally, I love being in school just to learn and expand my knowledge.  Being able to share that love with others is an amazing feeling," Macleod said.  "Also, [LT's LTB club] not only has tutoring, but other opportunities to lead group readings, outreach, and compile resources for volunteer hours."
Macleod really likes how there are a variety of volunteer opportunities for all types of personalities and interests.  She says she'd love to see LTB expand throughout the school.
"There are already so many amazing volunteer opportunities and I know there will be more coming soon," Macleod said.
Sophomore and Vice President, Trisha Potluri, believes it is very important to support the less fortunate, especially regarding education.
"I love to help others and I know the value of education.  I want to share my knowledge with those who need it so they can become better, successful people," Potluri said.
Potluri's favorite part about LTB is collaborating with new students and getting to watch them grow.  She says it is very important to help those around you so they can accomplish great things and, in turn, help those around them as well.
Sophomore and Historian, Jacob Roco, thinks LTB is most interesting because of its important purpose.
"This is a real organization that makes huge impacts on other people's lives," Roco said.
Roco joined LTB to gain an experience teaching and helping kids that are younger than he is.  He also hopes that everyone in LTB can become tutors and see the club thrive together as a helpful community.
While Majoju knows that Learn To Be is a commitment, she wants others to know that participating in LTB "makes you feel like you're part of something greater than yourself."
Join the LTB club at Lebanon Trail today by texting hh47k7 to 81010 to join the Remind.  New members must fill out an application to tutor a student, so that LTB can maintain tutor/student records.  The application link is below: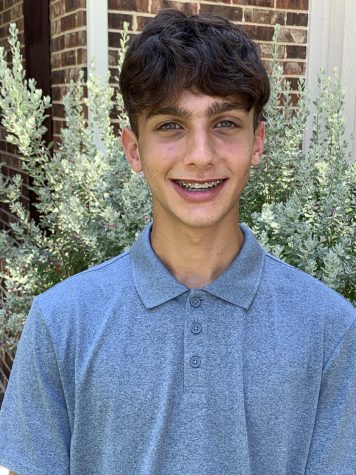 Charles Lachman, Editor
Charles Lachman is an editor for The Vanguard online news staff.  He is very passionate about news writing, and had the opportunity to work over the summer...