Ivory Keys and Copper Strings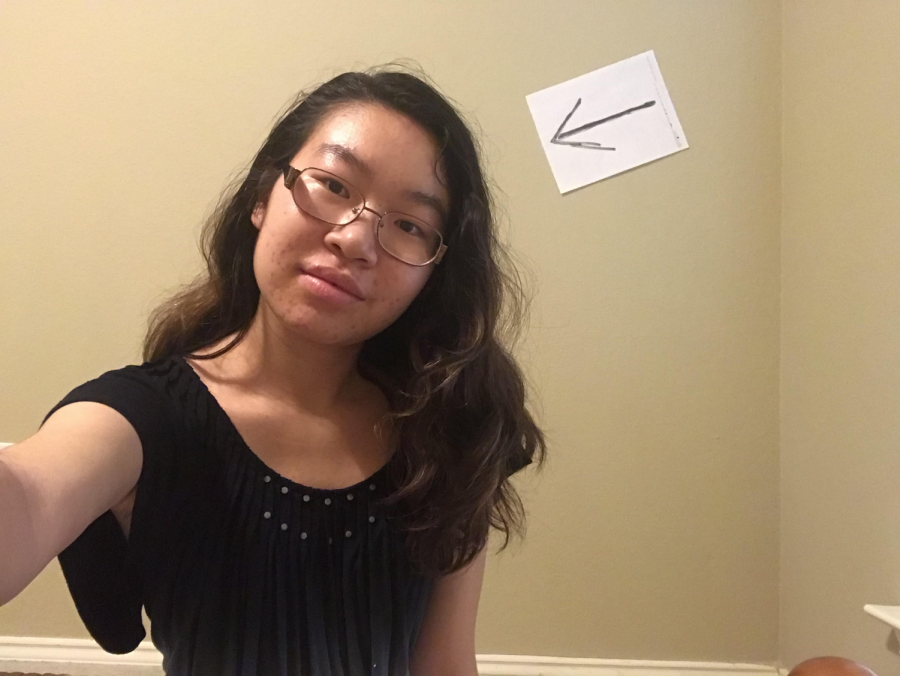 It's time to set the stage.
 Cecilia Tran walks onto the stage wearing a shimmering black dress as her glimmering piano greets her with its many ivory keys. She sits on the freshly polished bench and cracks her knuckles. The crowd holds its breath nearly buzzing with anticipation. And she's off.  Her fingers fly flawlessly across the keys as she concentrates on the music sheet in front of her, and it's over in minutes, the crowd goes silent for a minute or two, and erupts in applause. 
This is Cicelia's dream, to be remembered as the girl who awed them all. 
Freshman Cecilia Tran started playing Piano at age 4, and soon her fascination with music grew and bloomed into something beautiful.  Her love of music started at a young age where she discovered the piano at age 4.  Since then she had discovered other instruments and ways to express that passion for music.   She did this by joining Orchestra and buying a piano book. Since then her love has grown significantly, and it continues to grow today.  She hopes to inspire fellow students to try something new.
"I've played instruments for a long time, practically my whole life. I started playing piano at 4, and I started Cello in sixth grade," she said. 
She also plays guitar and bass.   "I sort of picked it up in church a year ago, so I'm not that skilled yet", said Cici. "I also tried to make a band once, but it kind of fell apart."  
Cici says that she joined Orchestra because none of the other 6th grade electives interested her. 
"I joined  Orchestra because the rest of the electives didn't really interest me," she said. 
She's been drawn to music her whole life, in the form of music boxes, radios, and street performers. 
"Nothing really sparked it, if that makes sense, It's just that music has always been in my life, so it's something I'm drawn to," she said.
"Musical composers have helped too, Chopin is the greatest, in my opinion, my favorite piece of his is Nocturnes," she said. 
However, she has an intense dislike for Bach. "I had this Bach book full of pieces and Bach has a really particular style of staccato that you play. And my eleven-year-old brain couldn't comprehend them, and it was not fun,",she said. 
Staccatos are short, detached, jumpy notes. And Bach's music had a lot of these, particularly his piece Bach prelude and fugue No.10. 
Cici thinks the best part of Orchestra is the accomplishment. 
"My best experience with Orchestra is probably the socials and the concerts, they're all super fun and it's nice seeing something you put a lot of work into coming together," Cici said.
She also enjoys the music community. 
"I love it, we all share pieces and sometimes perform together. It really is amazing and I wouldn't give it up for the world", says Cici.
When Cici isn't practicing piano, cello, or bass, she can usually be found watching movies with her mom and dad or chatting with friends. 
"My extended family lives in Beijing, so we can usually get some travel hours in. Jet-lag isn't very fun though, but it doesn't affect me as much as it used to," Cici said. 
"I think one of the many reasons I love music is because it is like an escape from the real world, just like books are kind of like portals to your favorite place, instead of sword-fighting with Peter Pan," she said. "I can imagine Chopin or Mozart sitting at their desk writing their piece, it's very relaxing I must admit."
"I particularly prefer the piano since it makes soft melodic sounds," Cici said.
Cici prefers slower pieces than fast and "chaotic" pieces. 
"I used to play piano tiles when I was younger," she said. " My favorite one to play was Bluestone alley, it was a very beautiful piece, I even tried to play it on my actual piano.
 "I guess I connect with slower pieces because it's so different than the rough rhythm of everyday life, and it gives me a chance to slow down and really think about what I want to do in life, or maybe even what I want for dinner," Cici said.
Cici hopes to pursue a career in either writing or music. 
"I want to do something that will get me to be remembered. If I had to choose a career path, I would choose one that's related to music or writing since I'm good at those. I want to accomplish writing my first book in 10 years," she said.
Cici has a lot of plans and is very thankful for the LTHS orchestra program for letting her pursue her lifelong passion for music.