Exploring Oneself Through Art and Theatre
Art and theater are two different sides of the fine arts. One involves painting, drawing, and products of an artist, while the other is the work of an actor taking on roles to draw in an audience or viewer. Yet, junior Naomi Worth believes otherwise, and art and theater are her perfect combination. 
Naomi Worth is a junior who is involved in theatre and art at LTHS, and one of the people voted as a student leader in a yearbook poll. She is also the secretary for the LTHS International Thespian Society troupe, but her first experience with theatre was in the sixth grade.
"I got involved with theatre when I was in sixth grade and couldn't choose between art and music for my elective, so I decided to try theatre to experience both," she said.
Worth has also been involved in art for a very long time. She said that she had started drawing at a very young age, and has been drawing ever since.
"I don't really remember what my original inspiration was," she said. "But as I've grown up my art has been centered around whatever I decide to surround myself with."
Worth explains that her recent inspirations are other artists, nature, and her own life. However, out of all her artworks, she does have a favorite piece, which is one she is currently working on.
"My favorite artwork that I've created is a piece that I'm working on for my AP Drawing class," she said. "It's a charcoal drawing with gold leaf details exploring the concept of Eve."
While Worth has performed in many productions, with a variety of roles, she said that her favorite performance and character was the role of Roxie in Chicago, which was performed at LT last year.
"The role was so freeing for me, and I grew so much in confidence and in my acting abilities. I also worked with many wonderful people and had an amazing support group in my theatre family," she said.
Her experiences with theatre and the people involved in theatre has helped her become the secretary for the LT thespian troupe. As the secretary, she logs the I.T.S points for all of the people in theatre, and works with the other officers.
"I've loved my experience so far as our theatre troupe's secretary," Worth said. "It's been so great to collaborate with other people who are passionate about making our theatre family more inclusive and welcoming to everyone."
Even though she is an officer, Worth is still very active when it comes to participating and performing in shows. She said that something which connects her art and her acting is the freedom of expression that it gives her. 
"When I'm onstage, most of the time, the characters I portray are very different from myself, but there's always a part of me in every character," she said. "And it feels so good to connect to a character, because it allows you to release your own emotions and thoughts through someone else's words. In my art too, it's a way to share my feelings."
Worth said that she herself struggles with focusing on perfection in her performances or artwork, and that she needs to remind herself to focus on growth and progress. Her advice to other thespians is related to this as well. 
"Rather than putting yourself down and comparing yourself to others, focus on the gifts you've been given and the wonderful things you're able to create and share with others," Worth said. "Be kind to yourself, and remember that you're still growing and learning and you always will be."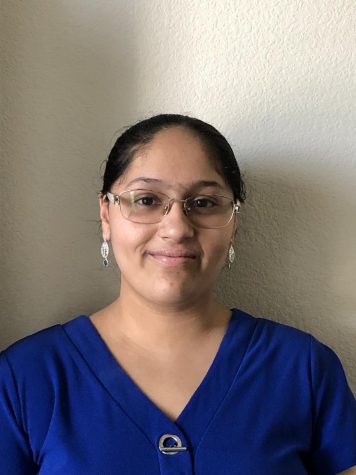 Shreya Pendse, Editor
Shreya Pendse is an editor for the LTHS Vanguard online news staff. She is a sophomore, and she is also a part of a theatre program.  In her spare time,...