When the Student Becomes the Teacher
Planning lessons, giving lectures, and grading papers are seen as typical parts of a teacher's job, but for Texas Woman's University student Jessika Belcher, it's all part of the learning process for her as she pursues a career in teaching. 
 As a student teacher for AP English Literature teacher Courtney Smith, Ms. Belcher has the opportunity to experience an authentic teaching environment and carry out many tasks and responsibilities of being a teacher. A student teacher is someone who teaches under the guidance of an experienced educator in order to become a certified teacher.
"Under Ms. Smith's supervision, I lead lessons and activities, help with planning, and I even get to grade!" Ms. Belcher said. "I'm here to help students learn, to help students grow, to support students in any way possible, and to prepare students for the future."
Ms. Belcher praises the school's learning environment and enjoys cooperating with the staff and students. 
"I absolutely love LT! The English department here is phenomenal, and the staff and students have been very welcoming. This school has a very positive atmosphere. LT has some of the most well-mannered students I have had the pleasure of working with and a very supportive staff," Ms. Belcher said. 
As Ms. Belcher continues to grow as an educator, Ms. Smith notes the positive influence she brings to the classroom and is impressed with how she interacts with the students. 
"She has been so great with connecting with the students and building relationships with them. She adds joy to the classroom and really helps to gain student's interests in the class material. I think my students have enjoyed having her with us this semester," Ms. Smith said.
Since starting her teaching experience at the beginning of the semester, Ms. Belcher's time at LT has allowed her to see many beneficial aspects of education and how impactful it can be on students' lives. 
"One of the most important things I have learned during my time here is the significance of incorporating students and allowing them to participate and lead the learning process. I have seen firsthand how meaningful lessons can be when students feel personally connected to the activity," Ms. Belcher said. 
Based on her observations of Ms. Belcher's preparedness and personable demeanor, Ms. Smith believes that there's no question that Ms. Belcher will succeed in her teaching career.
"She has done such a wonderful job this semester working with my students. She has planned and taught lessons, helped with student concerns, and provided additional support for students who were struggling or needed more instruction," Ms. Smith said.  "I am confident that she will be a great teacher, and I am jealous of the students that will get to have her as their teacher next year."
Ms. Belcher credits Ms. Smith for setting an example for her and giving her the necessary skills needed to advance students' readiness for higher education .
"Ms. Smith has inspired me so much. Her approach to teaching has reaffirmed my love for this career. Hopefully one day, I will be as great of a teacher as [her]," Ms. Belcher said. 
In the future, Ms. Belcher plans to use her experience at LT as a blueprint for her own approach to teaching and as motivation for her to reach her goals as an educator.  
"My experience at LT has inspired me to not only be an educator, but to be the best educator I can possibly be. All of the teachers at LT go above and beyond for their students, and I plan to do the same," Ms. Belcher said. "I want to be the kind of teacher that shows an interest in her students' lives and invests in their wellbeing."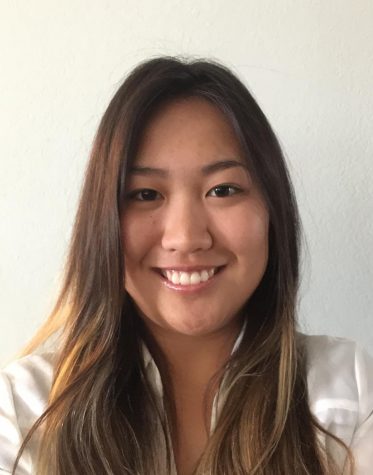 Madison Phung, Editor
Madison Phung is an editor for The Vanguard news staff.  In addition to playing competitive golf, Madison has interests in journalism and the film industry....