Do it For the Girls
October is national Breast Cancer Awareness Month. In light of this campaign, all parts of the school community are all joining in this nationwide movement that brings awareness to the public regarding Breast Cancer. 
 According to American Cancer Society, 1 in 8 women in the U.S will be diagnosed with breast cancer in her lifetime. Being the second leading cause of cancer death among women, it is important for students to have an awareness of Breast Cancer early on. 
"Breast cancer awareness month was created to not only bring awareness to the disease itself and how many people it affects, but also to ensure that women know the signs, symptoms, and preventive steps to take that can significantly decrease the chances of dying from breast cancer," school nurse Mrs.Evans said. 
Sophomore Soumya Ajjapudi, who is currently pursuing medical area studies, believes that learning about Breast cancer creates awareness and spreads knowledge that can later save lives.
" In the past, women were taught not to discuss topics that were directed at women's health, especially breast cancer," Ajjapudi said. " However recently, movements and Breast Cancer Awareness month have been so impactful in making women's health an open topic and creating a comfortable environment for women to open up." 
Similarly, other students, such as sophomore Aishani Arunganesh, also believe in bringing awareness to breast cancer because it can help individuals recognize the syndromes soon before the disease gets severe. 
"I do have a friend who was at risk of cancer, and it is really scary to imagine that someone who doesn't seem sick is actually at risk of such an uncontrolled disease," Arunganesh said. "It is really important to recognize it soon because it can prevent things like hospitalization or even death." 
Aside from solely bringing awareness, sophomore Ajjapudi also believes that creating a safe environment and giving information regarding breast cancer from professionals should also be other steps that we should take as a community. 
"I really think having  professionals come in and talk to our students about how to identify breast cancer and information regarding this cancer would help so much," Ajjapudi said." It would include information such as fundraisers, mammograms, self-diagnosing, etc. It can also create an open environment for people to discuss an issue in order to help people that may have felt that it was a restricted and private topic. " 
In conclusion, school nurse Mrs.Evans said that everyone should get involved in the movement by supporting and participating in awareness events, staying up to date on new information, and sharing that information with others which is easy to do with social media.
" It is important for students to have an awareness of Breast Cancer early on and before they are at risk," Mrs.Evans said. " The more exposure and information they receive over the years will help them with their own personal screening and prevention strategies and help them share their knowledge with others who may not be aware." 
 Additionally, Mrs.Evans also provided steps for teenagers both female and male can take now that will help reduce their risk of breast cancer including: 
Young women should begin their self-exams early and regularly so that they can become comfortable and create the habit early on and be able to identify any changes that may occur quickly.

Eating a nutritious, low-fat diet with plenty of fruits and vegetables can help reduce the risk of developing breast cancer. A high-fat diet increases the risk because fat triggers estrogen production that can fuel tumor growth.

Exercise boosts the immune system and helps you to keep your weight in check.

A sedentary lifestyle with little physical activity can increase your risk for breast cancer.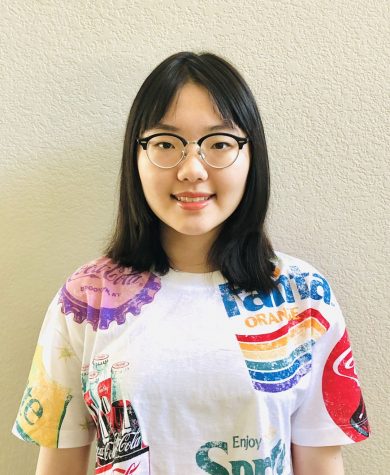 Katy Zhang, Editor
She's an artistic and creative individual who enjoys expressing herself with different forms of art such as posters, journaling and calligraphy. Growing...