Setting the Playing Field
Lebanon Trail's volleyball teams continue strong with wins from both varsity and junior varsity this season. As volleyball season keeps bringing a lot of joy to the LT community, players are making sure to follow new COVID precautions during practices and games. 
COVID has already caused a dramatic change in how schools across the country operate day to day schedules. With students attending in person classes having to incorporate the new implementations of requirements of masks and maintaining a six feet distance from others at all times, sports are not excluded. Volleyball is a sport where people are in constant contact with a ball and standing fairly close on the court, meaning LT has had to take many precautions to make sure volleyball season can continue without spreading possible cases of COVID.
Senior and varsity volleyball player Lauren Sullivan has said this year's volleyball season has been impacted with COVID and changed how practices operate and how teammates interact with each other.
"During practices, we have to have our mask on and we have to be six feet away from one another whenever we aren't physically playing on the court. We all assigned spots around the gym where we have to go during water breaks. I think the hardest guideline to follow is that we can't do team hurdles or high fives," Sullivan said. 
Sullivan said that the new year has brought many dramatic differences to her final volleyball season, but that, besides the pandemic, there have been some bright sides. 
"I would say the biggest difference besides the COVID guidelines is our team dynamic. Our team is a lot younger because we graduated 7 seniors, so the younger girls have had to step up to fill the roles/positions. But it's so cool to watch them and see how they've done an awesome job!" Sullivan said. 
Cloey Bohon, a junior on the varsity team, said that this year has been different for her for many reasons as she transitioned into a new team and has had to adapt to all the new guidelines amidst the COVID crisis. 
"Last year, I was on JV and this year I am on varsity so it is a big change in speed in addition to the new COVID guidelines. We are doing well with social distance and wearing masks, but I'm looking forward to continuing to play hard and hopefully win district with the team," Bohon said. 
Similarly, senior Xuan Ngyuen said that her volleyball season has experienced considerable contrasts compared to her past three years playing volleyball for LT. Yet, she said that despite the various differences, she is able to remain positive. 
"As a senior, I am really looking forward to having fun in my last year of high school volleyball, following COVID procedures of course!" Ngyuen said.  "We have to wear masks during practice and make sure to stay 6 feet apart, but we are all playing hard and trying to make this season just as good as past years!"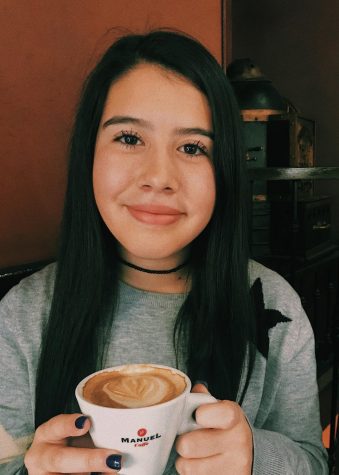 Fernanda Valle, Editor-in-Chief
Fernanda Valle is Editor in Chief for  The Vanguard news staff. Throughout her life, Fernanda has lived in countries all over the world like Nicaragua,...