An Academic Divide
Due to the impact of COVID-19 around the world, it was decided that the first three weeks of the 2020-2021 academic year was to be fully virtual for all students at Lebanon Trail. After much preparation by administration and staff, on September 3 LT allowed students who chose in-person learning to return to campus, while students who chose virtual stayed at home. 
During the summer, parents were allowed to decide whether or not to let their children attend in person learning, or continue the virtual learning that occurred in the last semester of the previous academic year. The decision was an important one, due to the drastic difference students would experience between in person and virtual learning.  
Virtual learning encompasses the entirety of back to back zoom calls with teachers, relying on solely internet resources, and lacks the face to face interaction with others. However, virtual learning is the safest way for students to protect themselves against the pandemic. On the other hand, in-person students are able to interact with their teachers and fellow peers, but are forced to maintain the 6 feet distance between everyone else and spend their school day with masks. 
Both in-person and virtual learning have their benefits and drawbacks. Despite the major differences from previous years, teachers and students alike each have different experiences and approaches to the new year. 
Teachers like AP and Pre-AP Chemistry teacher Ms. Marusik has had to adapt to virtual teacher styles to accommodate students taking entirely virtual classes. 
"Almost 80% of my AP Chemistry students selected to learn virtually for the school year — which has been a big change for me!  I'm so used to interacting with students in person, and forming relationships in class," Marusik said. 
With all the new challenges and obstacles this school year, Ms. Marusik reminds us all that the key is patience with yourself and with your teachers. 
"We are all learning lots of new technology together, learning how to make or take assessments online, answering lots of emails and Canvas messages, and figuring out how to get Zoom and our internet connections to cooperate!" Marusik said. "I think we all need a bit of grace right now." 
Amaniya Hayat is one of many seniors who has had to come to terms that their last year of high school will not be what they were expecting. Hayat, like many of her fellow classmates, is doing her academic year virtually, attending zooms every day rather than being physically in a classroom. 
"As much as we try to eliminate the virtual divide, being able to learn next to others with a teacher in the same room is something I've come to appreciate now that I am doing virtual learning," Hayat said, "There's a lot of uncertainty about what is to come this year."
Despite the major differences to her senior year, Hayat said that she has now become accustomed to learning virtually.
"It's important to take breaks and plan out my schedule," Hayat said. "Since we are at a screen all day, you also have to remember to give yourself time away from the screen and work in increments."
In contrast to Hayat, sophomore Ronny Shlayfam is currently attending in-person learning at LT.  
"For in-person learning we have been using a lot of technology which is something different from previous years," Shlayfam said. " It wasn't a difficult change for me because I am pretty good with technology and I enjoy using it."
The pandemic has changed the school year drastically for Shlayfam, but he said he still is able to look on the bright side of things. 
"I'm looking forward to hopefully having more people come back to school," Shlayfam said. "Overall, I just hope I can have a successful year and get better in everything that I do."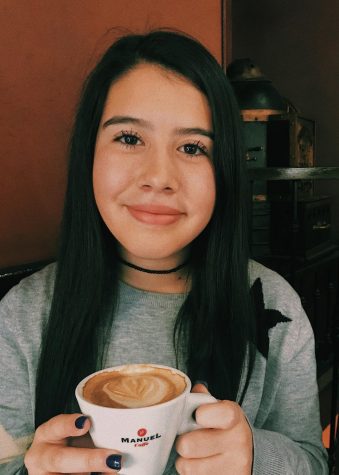 Fernanda Valle, Editor-in-Chief
Fernanda Valle is Editor in Chief for  The Vanguard news staff. Throughout her life, Fernanda has lived in countries all over the world like Nicaragua,...