Writing Your College Essay
College applications are finally here, and seniors face a gruelling upcoming months of preparing and submitting what are essentially their tickets into their possible futures. One of the most consequential parts in the college application process is the college essay, which provides admissions officers a more in-depth look into a student's character. However, students tend to struggle with writing their essay for various reasons, from lacking a good idea to motivating themselves to write. 
Regarded as the hardest part of college applications, some students feel overwhelmed because they don't know where and how to start on their essays, leaving them staring at a blank page for too long. Choosing a good idea for the essay is critical because the essay can have a huge determining factor in admissions. 
 "With college essays you have to be really concise about whatever you say. You have to be careful what you put because, in my opinion, a little mistake can ruin your college essay," senior Yuvraj Singh said. 
While some students struggle to come up with ideas for their essay, others have a hard time deciding on which parts of their lives they want to write about. 
"One of the things I struggled with was figuring out which story I wanted to tell, because the prompts are very vague, and there are so many things you could talk about," senior Supraja Mallapuram said. "It was really hard for me to decide which part I want to focus on and how to showcase my abilities."
Based on her experience with helping students with writing college essays, AP Language and GT Studies teacher Mrs. Kellems says that the key to thinking of good ideas is to brainstorm personal experiences and particular moments in your life that lets application readers "peer inside your soul." 
"Take a minute and reflect on the people that are in your life, the passions that you have, and your interests. If you can brainstorm lists for those three things, then you can see some connections," Kellems said. 
Another suggestion for coming up with ideas is to narrow down topics based on the different prompts. Not only does this help students decide on an idea, but this can save time in the application process. 
"If you're looking at Common App or ApplyTexas prompts, I would look at the crossover questions–the ones that you can write about that would work for both prompts. Look at them side by side and see where you are going to get the most "bang for your buck", so you can put the most time and energy into just writing a few instead of writing a whole bunch," Kellems said.
As a senior who is in the process of writing my own college essay myself, one of the things that I struggled with is writing was a good introduction for the essay. Because application readers have numerous applications to get through, it's important to quickly capture the reader's attention in the introduction in order to make the application more appealing.  
"It doesn't have to be super long. It can be two or three sentences. You just want to throw them in the essay immediately in the introduction," Kellems said. "If you have a big point to make and it's not gonna come up until the last line, they might have already lost interest at that point."
A couple things to avoid using in the introduction is a quote or a rhetorical question, as these are very common introduction methods that lack creative intellect. Instead, Kellems suggests using an analogy to pique the reader's interest and make the essay more personal. 
"If you're creative and you're able to follow a train of thought, you can create some sort of analogy where whatever you're describing is like something else, and you refer back to it throughout your paper, and then, in your conclusion you can connect back to it again. That's a really cool way to kind of weave everything together. Try out an analogy and don't force it," Kellems said. 
With millions of essays for app readers to get through, how do students make their essays stand out from the rest? The biggest thing that makes an essay memorable is how personal the writer makes it. Personalizing an essay pulls more empathy from the reader. 
"I want the application readers to feel a certain way in like they can relate to me on a personal level because I feel like many students struggle with the same kind of things, and if they read about another person's high school experience, they can relate and say that they felt the same way," Singh said.
However, personalizing an essay can be harder than it seems. While writing my own essay, I found it challenging for me to articulate my experiences in writing in a way that readers can relate to. 
"Coming up with topics can be hard because people don't like to talk about themselves very much. It's kind of uncomfortable," Kellems said. "The question you have to ask yourself when you're writing and when somebody else is reading it is, "Is this an essay that somebody else could've written?" And if the answer is yes, then your essay is not telling enough about you." 
One way to personalize the essay is to write about the unique experiences with a significant person, specifically the lessons they taught or how they shaped your identity. 
"For example, one person who was really pivotal to my life was my high school English teacher. I think about my experience with her and how she taught me to believe in myself, but also how that changed who I am now and my future. She made me want to teach and made me enjoy literature and writing. So what I would suggest is to see like who are the people who have been integral into creating who you are. Then you can kind of start to match up experiences and memories that you have that you can really play up," Kellems said. 
Kellems also notes that admissions officers like to see future oriented, problem-solver kind of students. Application readers tend to find essays based on moments of adversity more interesting than essays about moments of glory. Writing about improving something, or taking a negative situation and turning it into something positive can be another way to impress readers.  
"Focus on the hard moments that challenged you, that you came out on the other side with something. It builds your character or it made you realize something about yourself," Kellems said. 
The best essays follow a simple mantra: "show don't tell." When personalizing the essay, it's important to put the reader into that particular moment so they are not only impressed by your writing capabilities, but also can relate to the emotions you felt in that moment. 
"If you're focusing on a slice of life moment, the more imagery you can create, like what you saw, what you felt, what you heard, what you touched, what you smelled, all of those things can help put the reader there and make it stand out a little bit more," Kellems said. 
However, authenticity plays a huge role in personalizing your essay, so stay true to your voice or the essay will not flow the way it should. 
"Don't thesaurize it. In other words, don't try to come up with fancy vocabulary and synonyms for everything that you write. Don't try to sound super verbose or sophisticated if that's not you because they'll totally see right through it," Kellems said. 
One thing to keep in mind when writing the essay is to know who the audience is. Admissions officers could have different opinions and views so avoid writing about topics that they could disagree with.  
"Definitely avoid getting on your soapbox about politics. I would say not necessarily you would have to avoid religion, but it can be really polarizing," Kellems said. "Depending on where you're applying that could be important."
Once the first draft is complete, get other people to look at the essay and give constructive criticism for improvement.
"It's so biased if only you read it but other people reading it can catch many mistakes. A  fresh set of eyes always helps," Mallapuram said. "You don't know who the application reader is going to be like, you don't know if they're 20 years old or 50 years old. You want to make sure that your essay is understood by multiple audiences so you want to ask people from different demographics like what they think about it."
Procrastinating is the biggest roadblock for students who need to write their essay. The essay should be one of the highest priorities for students, therefore, they should start on it as early as the summer before their senior year. 
"I kinda procrastinated a little. I feel like I should've finished now that after I procrastinated I feel like I should've had it finished before school started because school does take up most of my time and summer was a good time to do it. Make sure to finish your college essay during the summer. It will help you a lot because during school you literally have no time," Singh said. 
For students starting later on their essay, managing time between schoolwork and college applications is crucial. 
"If you're starting late, then you might need to sacrifice a bit of school time to just crank out the essay. Like a whole week to just sit there and write as much as you can because it's a really big priority and it's something colleges do look at. Even if you don't have a really good GPA or grades, your essay can make you stand out and it could make or break your acceptance," Mallapuram said. 
Students who managed to get a head start on their essays know how important it is to take the time to write their essay, so they would schedule time to work on it during the day. Thinking about things that could be included in the essay could also provide motivation to work on it. 
"To stop procrastinating, at first I would try and set time aside like an hour or so at a time, and now whenever I think of a really good idea for my essays, I just start writing and revising because that's when I feel good the most," senior Vishnu Ramesh said. 
Overall, while essays are a very important part of college applications, admissions officers take a holistic approach to admission profiles, so don't dwell on the essay too much and stay optimistic about your application. 
"Don't overthink it because for most essays, and really most applications, if they are taking the time to review your applications, they're doing it pretty quickly, like they might spend maybe one or two minutes on your essay. So the quicker you can get into it, the better off it's gonna be," Kellems said.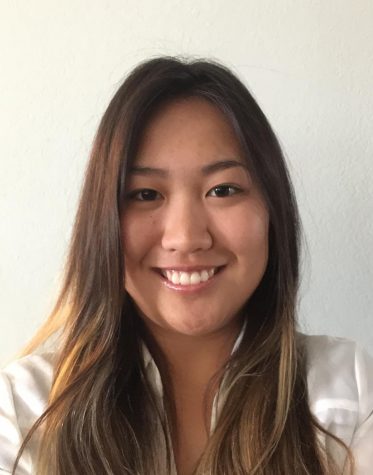 Madison Phung, Editor
Madison Phung is an editor for The Vanguard news staff.  In addition to playing competitive golf, Madison has interests in journalism and the film industry....