Marching Through the Competition
Under the bright lights of the Alamodome, an army of over 200 band students in their green uniforms and feather-tipped hats stride across the field, creating intricate formations that have taken months to master. It's an incredible sight from the stands, where fans watch as the enormity of the scene unfolds before them.  
On Nov. 3-5, the Trailblazer band competed at the state competition in the historic Alamodome stadium in San Antonio, Texas, where the band finished eighth out of about 250 schools in Texas. Helping lead the march was drum major Lauren Mccord. 
"It's probably the best thing that's ever happened to me. It's an experience I'll never forget," junior Lauren Mccord said. "I think it's the happiest I've ever been my entire life- going to state. 
Throughout the fall, they've battled through the regional and area competitions to punch their ticket to state. It was the first time the Trailblazer band has reached this level of competition. 
"We were competing against schools that have been there before. They've experienced the Alamodome. They know how to handle all the situations associated with a larger crowd, a bigger stadium," Mccord said. "We've never been there before, nobody in our band knows how to react to any of those circumstances. I think for our first time going to state, what we did was remarkable."
Like many other kids in band, Mccord got started in music when she joined her middle school band in sixth grade, where she played the euphonium. At first, she said it proved to be quite a challenge. 
"I was really bad at my instrument. I was significantly worse than all of the other people that played my instrument. But I definitely got a lot better," Mccord said. "Compared to other people, I was not the best, but I loved the music regardless of me being bad at my instrument."
Her dedication for band continued into high school, and Mccord learned what it really meant to be a part of a unit. 
"Compared to middle school, high school band is a lot more work I'd say. In high school, it's really on your own time and everybody else is actually relying on you to really practice your music to do well," Mccord said. "I think in middle school, I was thinking more of just myself but now it's more of an ensemble. It sounds more unified." 
Because of her growing passion for music, she decided to audition for a bigger role in band. However, becoming a drum major was not her first choice.
"So originally, becoming a drum major was something I didn't want to do. I wanted to be a section leader instead," Mccord said. "But the band directors kept encouraging me to audition for it anyways, and I'm so glad that I did. That process was one of the most stressful things that has ever happened to me."
With a bigger role comes with a bigger responsibility. Drum majors are expected to act as leaders for their fellow bandmates, and this includes the extra effort and time they put into preparation for practices and competitions. 
"Conducting the band, which is what everyone sees, is really only about 10 percent of what we do," senior drum major Annie Lammes said. "A lot more of it is clerical work: we're in charge of drill charts, which shows where to move on the field. We're in charge of getting the band set up for everything and taking care of take down. We're here first and we leave last."
Because of all of the additional work she has to put in, Mccord said she has to face the pressure of maintaining the fluidity of the band. 
"Sometimes it can be stressful because I'm supposed to have all the answers for the questions, so when I don't have an answer to a question, I feel like I'm letting people down," Mccord said. "It's stressful sometimes but we work so hard. None of us were actually expecting an award but when we actually got it, it was so great. You work so hard for so long and seeing the results is really nice."
Many of Mccord's peers and band directors have been impressed with her hard work and commitment to band, and she has become someone her bandmates have come to respect. 
"She's absolutely amazing. We had the drum major camp in the spring, and she came on the second day," Lammes said. "She blew us out of the water. She caught up really fast, and she got the position after interviews and after auditions. We absolutely love having her. She just does what she's supposed to do and she's figuring out things out and asking questions and understanding it."
Now that marching season is over, Mccord looks forward to building on the band's accomplishments next year. 
"Next year, I would really like to place first in area again. That's kind of a bold statement, but I think we're definitely capable of doing it," Mccord said. "This year has gone by really fast. We've rehearsed so much that it all kind of blends together. Every single practice that we've had, we've accomplished as much as we could. Like every minute really counted towards our success in this year."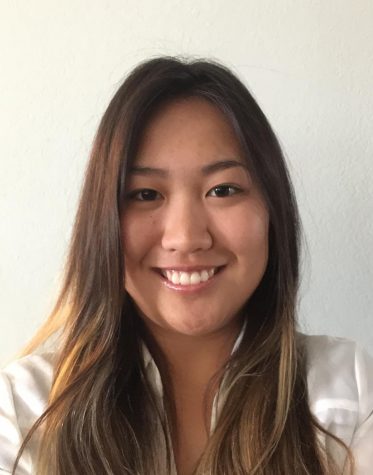 Madison Phung, Editor
Madison Phung is an editor for The Vanguard news staff.  In addition to playing competitive golf, Madison has interests in journalism and the film industry....