It's More Than Just a Flag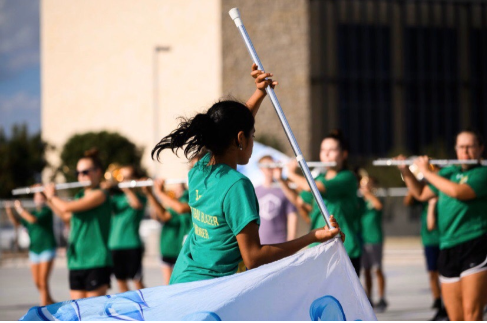 As the flag flutters across the field like paint brushes across the canvas,  a girl wearing rain suit dances lively and artistically. This is the life of freshman Vanya Sagi.
Vanya has been in band since sixth grade. Now she has also joined the school color guard program practicing more than three hours daily.
"One thing about color guard and band that has always stuck with me the most is how we push our limits to be amazing," Vanya said."There are a lot of times when I wanted to give up, but my director pushed me to my limit in order to perform the best performance we could." 
In the beginning, Vanya knew nothing about color guard or marching band.
"Color guard was very difficult in the beginning because firstly I am not a very coordinated person which made some of the routines a little difficult," Vanya said."  sometimes the Practices are also very long and the weather varied." 
Color guard coach Lauren Potter said Vanya passed those obstacles with her dedication.
"Vanya was able to conquer her obstacles by hours of dedication and practice in addition to rehearsing with the ensemble," coach Potter said." her dedication to excellence and never giving up is her biggest strength." 
Vanya said that her best memory through her experiences in color guard is when  they won first place in area marching competition on October 26th.
"When we won, at first I wasn't sure if I was hearing the right school because some of the other bands were REALLY good," Vanya said."I was really happy because the hours we put into the show had paid off." 
One of Vanya's close friends, freshman Maimun Ali said the biggest strength Vanya have through her experience in band and color guard is her valiant and committed personality.
"I realize that she is committed to everything she's doing," Maimun said."Despite all the difficult situations she has to go through, she still gets through all the weight on her back."
Coach Potter said despite all the activities Vanya is a part of, she is still able to remain diligent with her academic performance.
"I think Vanya has been raised with great time management skills and that has carried over into her extracurriculars,"coach Potter said."I never have to worry about Vanya's academic success as she just takes care of business."
Vanya said one of the most important things she learned from Color Guard is push forward when facing the obstacles in her life. 
"In the beginning of the year, I gave up really quickly and didn't have any motivation or goals that would last for long," Vanya said."but now I have learned to persevere and stick with something rather than give up so easily." 
Coach Potter said that Vanya always possessed with the personality of hardworking and team dedication which will take her further in life.
" Vanya has a great personality and truly is a team player," coach Potter said."She never becomes discouraged if she cannot achieve something right away, she just slowly continue to work at it, until she masters the skill."