A Teacher for the Ages
Being a high school teacher is no easy task. From coming up with lesson plans, to making sure all students understand the material, to spending hours grading papers, it's a profession that is hard to do gracefully. Yet, LTHS teacher Kelsey Decker seems to be able to balance it all, and to do it every day with a smile. 
This year, Lebanon Trail awarded Kelsey Decker the Teacher of the Year Award. Decker has taught many subjects at LT, such as AP Human Geography, AP Psychology, and is currently teaching US History. Despite the vast differences between each subject, Decker has excelled in teaching each one of them, helping her students to succeed in the classroom and in their exams. 
Her ability to adapt to each subject and to shine in each is a talent that is hard to come by. To be in Decker's classroom is to be in a learning environment where a student will always be helped in every step in the way.  
Decker said she had wanted to become a teacher since she was a little girl and believed it was the career that was best fit for her. She had almost gone to teach elementary kids, but instead found joy to teach high schoolers, and it seems it was the best choice to make. 
"I like being a high school teacher because students are mature, looking towards the future, and wanting to know things about life," Decker said. 
When asked about how she felt in receiving the Teacher of the Year Award, Decker said it was amazing to be able to be awarded it amongst the school. 
"It's humbling because there are so many amazing teachers at this school and it feels like a real honor," Decker said. "Teachers don't get a lot of praise so that validation that my hard work meant something was a good feeling to have."
Principal Jacob Duce said he believes Decker's award is well deserved, and is one of the most diligent and hard working teachers at LT. 
"She is one of those leaders who doesn't lead from the front, she leads from the middle; she doesn't tell people what to do, but she shows them how to do it," Mr. Duce said.
But along with her strong leadership qualities, her dedication to her students is something that Duce said he admires and values from Decker. 
"She has this internal drive that she is relentless in her pursuit to build strong relationships with her kids and other teachers," Mr. Duce said. "She is building relationships throughout the school year while working on the content and student achievement." 
Similarly, her colleagues feel the same way about Decker. Jillian Schattle, a fellow teacher in the history department, shares great admiration for Decker, who she considers a great friend. 
"She has such an open mind," Schattle said. "She has creative solutions to problems, and it helps that she's really funny. You can see it shine when she's teaching her students." 
Her past students, while they haven't had her for years, talk highly of her, and still praise her teaching skills. 
Junior Faiez Qureshi had Decker his freshman year for AP Human Geography and is appreciative that he had such a great teacher to guide him through it. 
"She pushed me to do the best I could," Qureshi said. "She was able to create a lively environment, even in her stressful class, and was able to make me look forward to coming to class." 
A teacher like Decker is hard to come by, and it seems that  LT is thankful to be able to have such an addition to their staff. The Teacher of the Year Award seems only fitting to Decker's extraordinary attitude and skills, and she sets a precedent for those who teach alongside her. 
"It's not what you're teaching, it's how you're teaching and interacting with your kids," Decker said. "It is the culture of the school, it's a real sense of family. Everybody is genuinely interested in helping students succeed in their own way, whatever path that might be."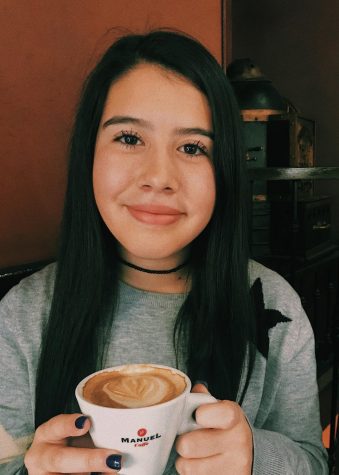 Fernanda Valle, Editor-in-Chief
Fernanda Valle is Editor in Chief for  The Vanguard news staff. Throughout her life, Fernanda has lived in countries all over the world like Nicaragua,...