Senior Year in Full Swing
From Trailblazer to Patriot: Olivia Mitchell
As the most decorated golfer in school history, senior Olivia Mitchell earned a scholarship to play golf for Dallas Baptist University on Aug. 20.
Olivia kept in contact with numerous schools during her long recruitment process, however, DBU was the one that stood out to her the most.
"I went on a couple visits with schools, but there was something about DBU when I went on my first unofficial visit there. It was so welcoming," Olivia said. "I felt like I knew I was going to go there for a while." Becoming a future Patriot, she said looks forward to "meeting new people, playing new courses, and traveling cross country."
Olivia started playing golf 11 years ago when her grandparents introduced her to the sport. At age seven, she would attend golf camps at Elkins Lake in Huntsville, Texas, near where her grandparents lived.
"I just stuck with it. My grandparents got me a new set of clubs, and my dad really pushed it after that," Olivia said.
Despite competing in a multitude of sports, ranging from volleyball and basketball to gymnastics and cheer, she chose to focus solely on golf in high school.
"I knew golf could get me the furthest, and I just liked it the most. It's so individualized," Olivia said. "It's all me. I'm the one out there. I'm the one making decisions, pulling the club, hitting the shots."
During her freshman year, Coach Scott Carmichael witnessed firsthand Olivia's rise into success.
"Her work ethic rubs off on other people," Carmichael said. "She's a tireless worker."
Her golf game began to take off in high school after putting in the work she deemed necessary to become the player she is today.
"I wasn't a player that shot really low numbers when they were super little," Olivia said. "For me to get to the next level and step up my game, I had to work hard and shape my game into the way I wanted it to be so I could compete."
However, in 2017, Olivia suffered a hip injury after taking a fall down the stairs, putting a sudden halt to her growing golf game.
"We went to see my surgeon," Olivia said. "I had this CAT scan, and it showed that I completely lodged the piece of cartilage connecting my hip to my femur, and that I had hip impingement."
After undergoing hip surgery, Olivia endured a month of therapy before she started hitting golf balls again. At first, the hip injury substantially hindered her golf game.
"My ball flight was not what it used to be. I didn't have near the power, I didn't have near the distance," Olivia said. "It wasn't until about seven months ago that I started hitting the ball like I did before I had surgery."
Olivia's father, Kyle Mitchell, watched his daughter battle through this obstacle in her golf development. He said the toughest part for Olivia was trying to "get back on the horse."
"It was the very first time she had ever been injured. Olivia had never been injured before," Mr. Mitchell said. "It was uncomfortable for her when she first came out to play. But she was tough enough to get up and play."
Even in her senior year, the effects of her hip injury still linger, but she said that they only cause a minor distraction instead of a massive problem.
"It still bothers her at times. But she plays through it. She doesn't complain," Carmichael said.
Despite the continuous battle with her hip injury, Olivia managed to win eight tournaments and claimed several school records. And as the leader of the girls golf team, she led to them to 10 wins, including back to back state runner-up finishes.
"There were four of us freshman year. I don't think any of us ever expected to get this good as a team," Olivia said. "But now that we're here contending for a state title, it's really cool that we have been so successful."
Before she heads off to play golf for DBU, Olivia has set her sights on finally bringing a state title to the school.
"I think if we keep the energy that we have right now going into spring golf, and keep working through the winter, and getting done what we know will get us to the top, that's the mindset we need to have," Olivia said.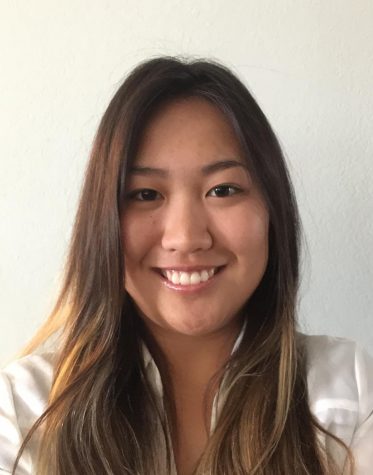 Madison Phung, Editor
Madison Phung is an editor for The Vanguard news staff.  In addition to playing competitive golf, Madison has interests in journalism and the film industry....