Blazer Spirit
Without fail, every Lebanon Trail football game has a full student section with loud cheers and screams of support for their team. With every play, interception, and touchdown, the crowd seems to get louder and louder. This is due to the people who run along the sidelines holding Torch flags, who help the cheerleaders be heard, and make sure that there is never a dull moment. These students are the Spirit Club, and they have certainly not gone unnoticed.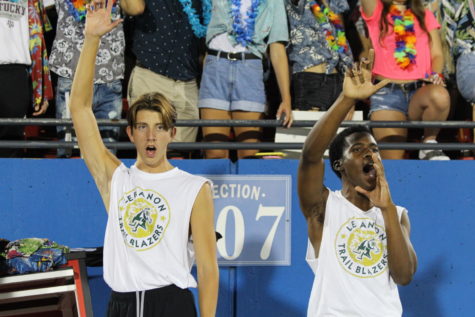 The Spirit Club attends every game, and with their large enthusiasm, and their voice echoing through megaphones, they have become a large part of the football games. The most recent games were the Hawaiin, Neon, and White-Out themed football games, and the Spirit Club was always there to motivate the crowd. 
Senior Jim Annoh came up with the idea of a Lebanon Trail Spirit Club, and with Cade Conboy, Fritz Balbinot, Elise Willingham, and Ava Hampton, Annoh is currently cheering on the football team and is excited to be a part of this experience.
"The University of Oklahoma's RUF/NEKs spirit program sparked the idea for me, and I thought that athletes need that support from the students of the school because it motivates them to do better," Annoh said. 
The next football game will be on Thursday, September 26, which will be Trail Blazer themed for Forthcoming Week. Annoh and his club are sure to be there to make the Forthcoming game an exciting time for all.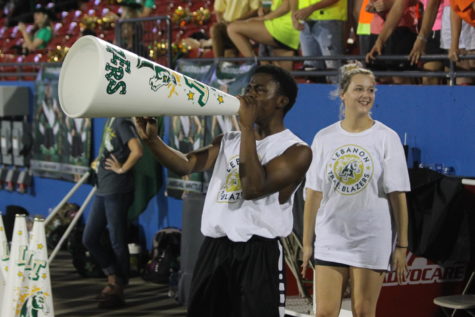 "By staying hydrated throughout the day, stretching, and having our flags in order, we'll make sure to be prepared," Annoh said. "Seeing more and more students show up and be vocal in the stands is amazing and a huge improvement from last year.
While the thought of standing in front of one's classmates makes others feel scared, senior Fritz Balbinot, a member of the Spirit Club and flag runner, said he isn't afraid of firing up the crowd, despite the large amount of students that attend."
"Some people wouldn't be able to do this, you have to be able to laugh at yourself and have no shame to get the crowd involved; fortunately, I have no problem with that," Balbinot said.
Senior Cade Conboy, another member of the Spirit Club and one of flag runners, said that he loves being a part of the Spirit Club.
"Jim told me it would be a fun experience, and I am glad I am able to set an example for future members," Conboy said. "Being able to get the crowd riled up and see their smiles makes all the running worthwhile."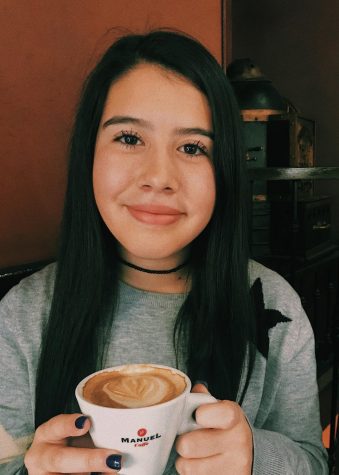 Fernanda Valle, Editor-in-Chief
Fernanda Valle is Editor in Chief for  The Vanguard news staff. Throughout her life, Fernanda has lived in countries all over the world like Nicaragua,...