2018-2019 Club Fair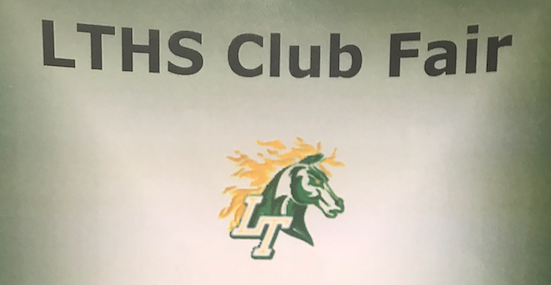 On Wednesday, September 12th Lebanon Trail hosted the 2019-2019 Club Fair.  The event was held in the gymnasium during mega lunch, ending at 12:45. Clubs were assigned tables where they set up unique displays to represent their club. These were the clubs, and their sponsors, for this school year.
Academic Decathlon – Mr. Stewart

Art Club – Ms. Summers/Ms. Duncan

Asian Culture Club – Mr. Castro

Best Buddies – Ms. Core/Ms. Kim

Book Club – Ms. Hill

BPA (Business Professionals of America) – Mr. Loosli/Ms. Williams

BSU (Black Student Union) – Mr. Johnson

CCC (Chinese Community Club) – Mr. Hunter

Computer Science Club – Ms. Bonnett

Culture Club – Ms. Law

Dancing for a Cause – Ms.Miller

Debate – Coach Johnson

DECA – Ms. Williams/Mr. Loosli

Emerald Elite Drill Team – Ms. Harmon

Fashion Club – Ms. Fiszer

FCA (Fellowship of Christian Anyones) – Ms. Hughes

FFA (Future Farmers of America) – Ms. Cullum

French Club – Ms. Chestnut

Future Medical Students of America – Ms. Kim

Girls in STEM – Ms. Moran

Green Team – Mr. Trevino

HOSA – Dr. Chong

Humane Society of the US – Ms. Duncan

I.T.S Drama Club (International Thespian Society) – Mr. Hollomon

Key Club – Ms. Tsadi

LT eSports –  Mr.Holan

LTHS Musical – Mr. Hollomon

Movie Maker – Kingdom Productions – Ms. C Smith

Multi-Skill Leadership Club – Mr. Webb

National Art Honor Society – Ms. Summers/Ms. Duncan

People to People International – Mr. Webb

Ping Pong Club – Mr. Arasato

PRIDE Club – Ms. SUmmers/Davenport

Quill and Scroll – Ms. Henvey

Robotics – Lueders

S. O. S. Club – Ms. J Smith

Spanish Club – Ms. Rey

Student Achievement Society – Ms. Miller

Student Council – Ms. Whisenhunt-Guerra/Ms. Moran

The Welcome Project – Ms. Schattle

Unicef – Ms. Kuberski

World Discussions Club – Dr. Chong

Youth and Government – Ms. Kellems

Zero Robotics – Mr. Hunter
It's never too late to join a club. Even if you missed the Club Fair, contact the club sponsor of the club you're interested in to join.