Scripts and Music Scores : Balancing Theater and Piano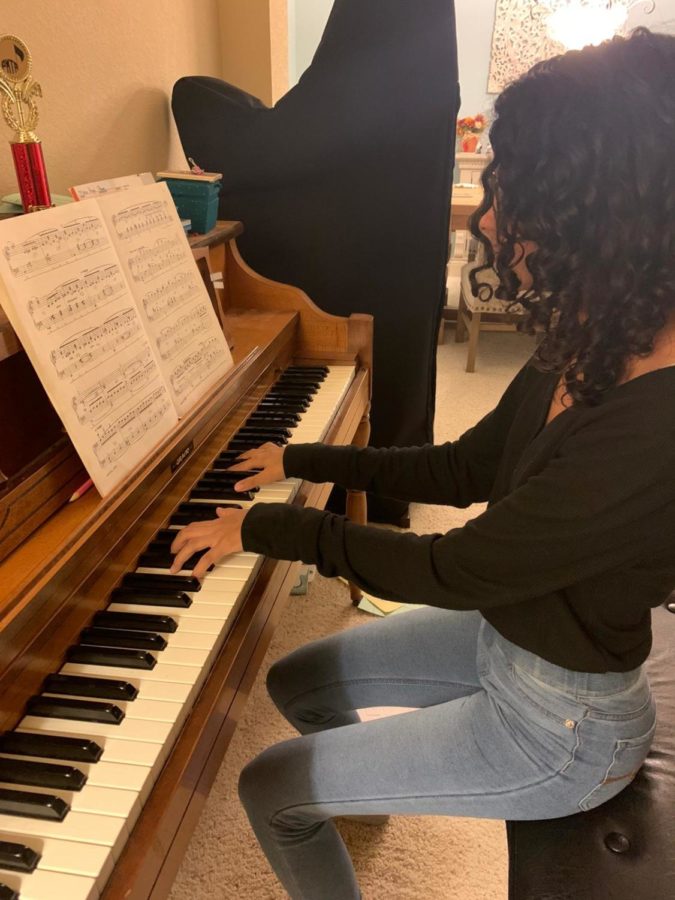 Music and scripts are important to Melia Puga, a freshman who is involved in theater and who plays piano.
Melia has been playing piano for nine years, and had several reasons to start.
"I chose piano because my mom played when she was a little girl," Melia said "It was a beautiful instrument."
Additionally, she has been involved in theater since seventh grade.
"I joined theater in seventh grade because most of my friends were in theater and it looked like a lot of fun," she said.
Currently, she is involved in the production of "Chicago" at LTHS, is a member of the JV improv troupe, and is practicing for an upcoming piano competition, the Junior Pianist Guild, which she said is in February.
"For the competition, you have to prepare 3-4 pieces," Melia said. "It's a long selection, and very hard."
When Melia first started playing piano, she said that she found it to be really challenging.
"Before I really fell in love with it, I wanted to quit," she said. "[If I could go back in time] I would tell myself to just persevere, just wait, like one more year."
Melia said that she has had several challenging pieces in both piano and theater. She said that the most challenging so far in piano is a song she is working on right now.
"It is six minutes and nine pages," she said. "It's the hardest piece I've ever had to play, but I love it very much."
In theater, she said the most challenging piece she has worked on so far is a monologue she recently performed in her theater class.
"I've never had to work with a character that deep. It was really challenging," Melia said.
Some of Melia's favorite experiences with piano and theater have involved competitions. She said that a state competition for piano in San Marcos, Texas that she participates in every year is one of her favorite experiences.
"I drive down to San Marcos, Texas with family and play, and out of 20-25 people, the judges pick one as all-state champion for their division," Melia said. "I have been all-state champion six times out of nine."
In theater, she said that her favorite experience was the UIL competition that she participated in during eighth grade at Fowler MS. The play the school competed with was "Triangle." She was playing the role of Isabel, who she described as "a sassy 14-year-old girl who's an obnoxious little sister."
"It was the most fun I've ever had. I met people I knew I would be friends with for my entire life," Melia said. "I wouldn't trade it for the world."
While Melia enjoys piano and theater, they are not the only fine arts in which she has been involved. She also does watercolor paintings, and has a bullet journal. Also, she used to play harp in middle school, and played for three years.
"I no longer play the harp because I enjoy theater much more," Melia said. "I will always love the harp, but my passion lies with theater."
Due to all of her activities, Melia has a very busy schedule, and has to balance rehearsal, piano classes and practice and her homework.
"I have rehearsal almost every day after school and I have piano directly after rehearsal on Tuesdays from 7-8," she said.
Melia also said that she often stays up late to do homework, because she usually practices piano for two hours. She said that she has to make sure she gets all of her work done.
"I try really hard to be productive, because if I'm not, I'm never getting any sleep," Melia said. "I don't really have a choice but to be productive and organized."