Checking in on LT Students
With a few unexpected weeks, and a semester filled with surprises, LT students have taken various approaches and ways to overcome this past school year, but also find a bit of fun in the daily activities all of us have gotten used to. 
Senior Faiez Qureshi has faced the school year looking on the bright side of things, more so happy that his virtual year has not been so bad after all. 
"I like how virtual school has given me a flexible schedule that has taught me a lot about prioritizing and planning my work across the week. The workload feels lighter even though it's essentially the same and it's because managing work in this environment is just much easier as I feel like I have more time in the day," Qureshi said. 
Qureshi has even partook in volunteering throughout the year as well, although it was a bit harder this year than most. 
"It's been difficult to find places to volunteer due to the pandemic, but I have participated in  NHS by tutoring fellow classmates in math," Qureshi said.
Recently, with something Texans don't see everyday–snow–Qureshi said he happily welcomed the weather, even though he met some unforeseen inconveniences. 
"The snow was very unexpected because we haven't gotten it in years and I love that weather, and although my power outage made it hard to enjoy it, I still loved it either way."
As a senior, the last year is filled with excitement but also many experience, like senior Aashka Shroff, a calming wave of anticipation of what's to come next.
"I'd say the most difficult part of this year is dealing with senioritis during my second semester! Shroff said. 
And yet, despite this senioritis, Shroff has continued to be an active participant at LT, such as being involved in DECA, Student Council, and also her own internship. 
"This year I started working for a nonprofit organization as a legal intern, and it has been amazing to gain experience in preparation for after graduation," Schroff said.
Shroff has even taken up some new hobbies, and also catching up on some resting, with all the time she has this year. 
"I have been able to sleep more before class and not have to worry about the traffic of getting to school, but I've also really taken an interest in knitting! It's really calming and helps when I am a bit bored," Shroff said. 
Similarly, while her school year is entirely virtual, junior Sanjana Kodali has enjoyed it from the beginning, finding its pros to be enough to keep going. 
"This school year, I have been able to do my assignments whenever I want. I feel like with virtual, I've had so much more free time which gives me more flexibility to plan my own schedule of when I want to do things," said Kodali.
Ranging from skateboarding to volunteer work, Kodali has been doing it all, and with an enthusiastic attitude. 
"I am a very uncoordinated person so I was a little shocked that I was able to learn how to skateboard so quickly and I even learned how to do some fun tricks too. Also, despite the pandemic, I have continued DECA, Model UN, and Girls in Stem, but I have also tried to volunteer virtually," Kodali said. "For example, through StuCo, I donated through Amazon for a food drive. Things like that have allowed me to continue to do things that I enjoy."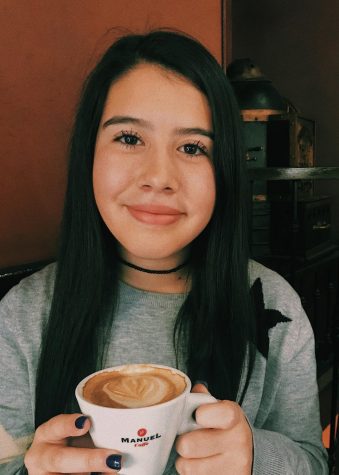 Fernanda Valle, Editor-in-Chief
Fernanda Valle is Editor in Chief for  The Vanguard news staff. Throughout her life, Fernanda has lived in countries all over the world like Nicaragua,...