Kicking in the New Year
The LT girl's soccer teams began their season over the 2020 winter break, continuing their season into the new year. Cold weather, mixed with COVID-19 precautions, has changed the new season, but the girls team maintain their LT spirit regardless. 
Last year, due to COVID precautions, the soccer season was cut short. Unable to go to playoffs, the current girls soccer team is already making their mark and striving forward with high hopes for the 2021 year. 
"So far our season has been very unpredictable, so we've had to be ready for any sudden changes because we can expect anything to remain the same," sophomore Mallory Bennet said. 
Bennet, a sophomore on junior varsity, said the new season has been drastically different, but she still is excited to play all the same. 
"I am most looking forward to being able to play soccer this season with the rest of the team since last season we couldn't finish due to COVID regulations," Bennet said. 
COVID has made it hard for sports to continue their season like usual, and soccer is no different. It seems to have hit even harder for soccer as their entire season was put to a halt due to the pandemic. However, to look on the bright side, Bennet said that she has gained more confidence when it comes to this new season. 
"My experience in soccer has changed from my freshman year to now because I feel like I'm a lot more comfortable and confident on the field," Bennet said. 
Similarly, the seniors on the soccer team regard their last season as their most important one, especially for varsity player senior Emma Harrelson. 
"Freshman year was completely different because we only had one team and were considered junior varsity," Harrelson said. "Although we were a JV team,  we competed in varsity tournaments and were able to win."
Freshman year was  also a moment of growth she said. Despite being unable to compete in playoffs last year, she said that she is happy to have another chance to finish the season this year. 
"Now that we are a varsity team playing against schools in Frisco, it has become a lot more challenging but more exciting to win games. I am looking forward to having the opportunity to go to the playoffs since they were canceled last year due to COVID,"  Harrelson said. 
Harrelson, like many others in soccer, are pushing forward, constantly putting their all into each game and practice, and are expecting to leave their season on a happy note, especially LT's seniors. Harrelson said she is anticipating Senior Night the most and is thrilled to finally be a part of it. 
"Senior night will be exciting because it is supposed to be something really special," Harrelson said. "It will be fun to be recognized with my teammates and it will be a special way to end the season and the seniors high school career."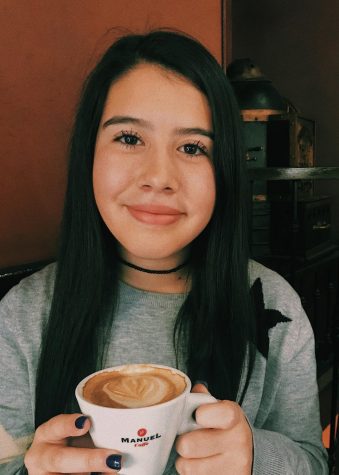 Fernanda Valle, Editor-in-Chief
Fernanda Valle is Editor in Chief for  The Vanguard news staff. Throughout her life, Fernanda has lived in countries all over the world like Nicaragua,...