LT's First Ever Holiday Toy Drive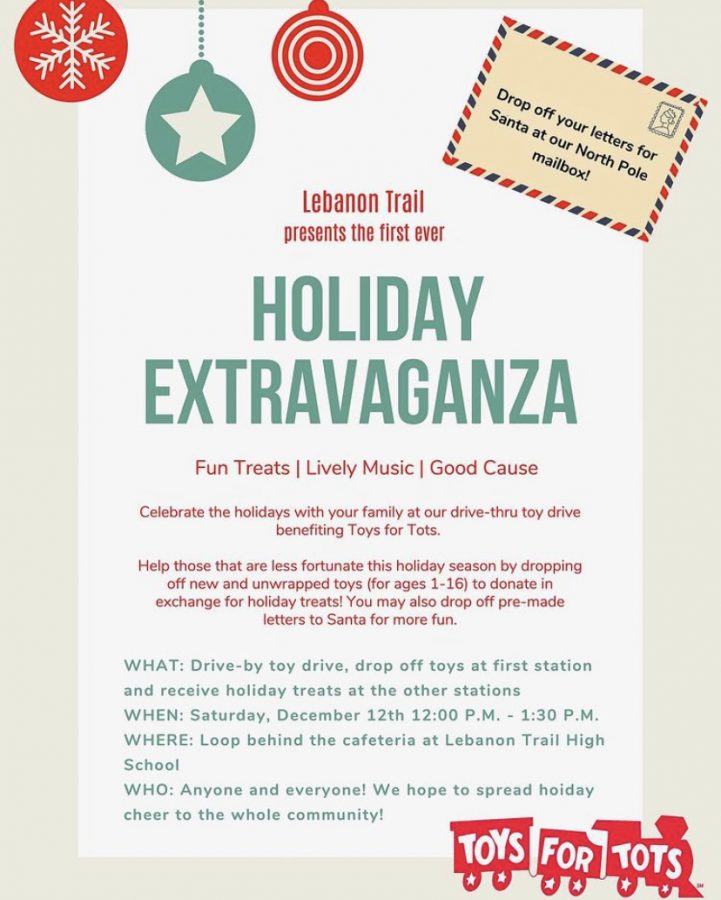 Lebanon Trail's Student Council has announced they will host a Holiday Toy Drive on December 12th from 12:00pm-1:30pm in the bus loop behind the cafeteria. In order to spread holiday cheer, but also help for a good cause, Student Council encourages students to come and invite as many people they know to donate toys, but also enjoy the treats that will be given out. 
COVID-19 is still affecting society today, but to spread some joy and happiness during the holiday season, Student Council believed that having the first ever Holiday Drive for Lebanon Trail would be a good way to raise spirits, senior Vice President Ariana Harpavat said.
"We were trying to come up with a service project for the holiday season and we came up with the idea of a toy drive," Harpavat said. "I used the ideas from the NHS holiday party last year and the Cheer Holiday Market and we put them together to come up with this event idea to have a holiday drive-through event that will be helping raise toys for the Toys for Tots foundation."
As the first person to propose the potential idea of having a Holiday Toy Drive, Harpavat hoped that the Holiday Drive would be a way for LT to reach out to the community and "connect with younger families" as well as make an event that was more "interactive and interesting so more people would want to come together".
Fellow student council member and senior Deven Patel signed up to help volunteer for the event and donate food items.
"It's great that we have this opportunity to make some kids smile, but also so we can donate toys for a good cause," Patel said. "I'm glad to be able to help out and to spread some holiday cheer."
Patel said he believed that the Toy Drive is a good opportunity for LT students to have fun and to do something for the community especially with COVID making it harder for people to travel over the holidays. 
Similarly, junior secretary Yee Hong Pua said he believes the holiday themed toy drive will be a great way for families to come together at LT.
"Many traditional Christmas and holiday events have been canceled or changed to keep in accordance with safety guidelines, so I'm sure that many families want a Christmas event, especially for younger kids to enjoy." Pua said.
Pua stated that the toy drive will be centered as a drive through in which Student Council volunteers will be at the drive-through to safely assist families and distribute goodies. Families to drop off toys, pick up their holiday treats, and drop off letters to Santa. 
"By consolidating some of the best parts of the holidays (treats, letters, and giving), we hope to fill the hole that COVID may have left and spread holiday cheer!" Pua said. "Given that it is 2020, we wanted to spread holiday cheer in the LT community, so expect to get in the Christmas spirit with music, toys, and treats!"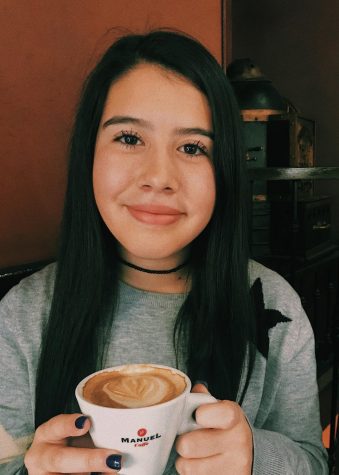 Fernanda Valle, Editor-in-Chief
Fernanda Valle is Editor in Chief for  The Vanguard news staff. Throughout her life, Fernanda has lived in countries all over the world like Nicaragua,...