Emerson Durham and his home away from home
Sophomore Emerson Durham is a singer and guitarist at the School Of Rock.  It has been one of his biggest passions for a little over five years, and his favorite part of it all is simply performing on stage.
Durham first began pursuing music when he was eight years old.
"I think my dad liked it first because [at that time], I was still doing dance, and we had to take an alternate route," Durham said.  "He saw [pursuing music as an idea] and started there."
Nowadays, Durham doesn't just go for the music, he also goes for the general experience and the camaraderies.
"School Of Rock is an amazing place.  They're very accepting and everyone there is amazing," Durham said.  "The teachers are very understanding, about mental health and other things as well.  Everyone there cares, and I think that's amazing."
To Durham, the biggest challenge is memorizing everything.  He says he has gotten better, however he still experiences a good amount of anxiety before each show.
"Eventually [memorizing everything] gets easier, but in the beginning it's always a bit rough," Durham said.
Durham recalled one of his favorite memories.
"I was doing the Iron Maiden vs Judas Priest set.  We were performing at Lava Cantina (pre COVID), and I did my face paint of Eddie, the Iron Maiden 'mascot,'" Durham said.  "During 'Number Of The Beast,' I climbed on top of the drum platform and jumped off while singing one of the hardest parts of the song, and I did it almost perfectly.  I was really proud (of myself), and so was the band leader."
When COVID hit, Durham was in the Jimi Hendrix band (covering all Jimi Hendrix songs), and everything went virtual.  Now, School Of Rock is back in person, but they practice in the lobby.
"The guitars and drums are on the stage, and the singers have 'booths' laid out around the lobby.  [All of the musicians] have to bring our own microphones, and everything gets disinfected when a new person has to use a drum kit or an amp. (Even when we sing), we have to wear a mask the entire time," Durham said.
Currently, Durham is part of the punk band (performing all punk songs).
"Singing (all of these different songs, especially At The Drive In's 'Arcarsenal') is very hard, but I've mostly gotten used to it," Durham said.  "(Also, I believe that) it has helped me build up stamina."
From a hobby to a talent to a passion, Durham has discovered a place that is amazing in every aspect for him, and he will continue to show his talents at School Of Rock.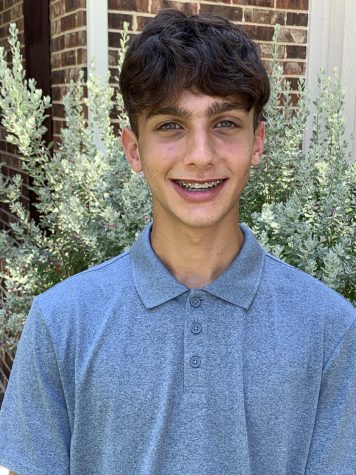 Charles Lachman, Editor
Charles Lachman is an editor for The Vanguard online news staff.  He is very passionate about news writing, and had the opportunity to work over the summer...